I am almost beside myself trying to figure out what I can do to satisfy the reviewrs with my vector application files. One has been accepted but it seems a great task to get the other two approvals I need. All rejections come with the same canned response "
nnWe're sorry but this artwork is not what we are currently looking for in terms of composition, color usage, use of line and shape, concept, detail and/or file complexity.
"
I have sought feedback from the forum and have been advised that my linework needs consistency and that my shapes should in the main be created rather than using the eleipse tool for example.
My subsequent submissions took these into consideration and yet I get rejected with the same canned reasons and I cannot figure what EXACTLY is the issue with my vectors. A more tailored response would have helped.
So I contacted support on the matter. I even made a comparison between my application files and a recently accepted application file from another contributor titled "cartoon earth with cell phone". I see no reason why my files were any worse. Sorry again but I have to compare because I feel that I am unfairly treated.
The response form support was as follows...
"
Thank you for your message and sorry to hear that you are not having any luck with your illustration application.

Have you taken a look at all the illustration resources on this page:

http://www.istockphoto.com/forum_messages.php?threadid=350449&messageid=6816149#post6816149



It seems to me that it's not so much the quality of your illustrations as it is that the files you are submitting are not really what our clients are looking for.



Please let me know if you have further questions
."
I thought that saleability had nothing to do with APPLICATION files but rather capability and potential as a vector artist in the work that is presented.
Here are some recent rejected files.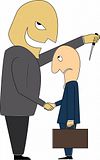 http://i1106.photobucket.com/albums/h370/sluman238/backstabber2.jpg
http://i1106.photobucket.com/albums/h370/sluman238/FOOTBALLHEAD2.jpg
http://i1106.photobucket.com/albums/h370/sluman238/moneymanConverted.jpg
http://i1106.photobucket.com/albums/h370/sluman238/flashlight.jpg
So many attempts...but I will not give up.
Your feedback again is welcomed.
(Edited on 2013-05-15 10:18:46 by jaminwell)