Posted By stray_cat:
What if the giant panda were ...
also
a nun?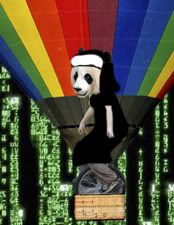 I called our creative team together to brainstorm on your 'awesome image' concept.
With our in-house psychic and my Mom on speakerphone we came up with the following:
The digital-panda-nun-man is very 'now', very 'digital', maybe even awesomish. However, the team consensus was to really take it to the next level and incorporate ALL of the classic Hollywood-type cornerstones of archetypal storytelling, we need a midget...
-
Everything a nun does is funny
-
Everything a man does when dress as a woman is hysterical
-
Everything an animal does (preferably a cute and endangered one) is absolutely sensational
-
Everything a midget does is cause for feverish comedic convulsions
- EVERYTHING a midget male dressed as a nun does with/as an animal is cause for complete, transcendental, madcap apoplexy and is probably miniseries material and would classify as awesome.
I must however decline this job for reasons too complex to divulge.