This page peel is angled to allow for some copy, and unlike lots of ill-drawn corners seen in advertising, it was authentically constructed by this old-world technical illustrator, then hand-shaded in Photoshop.
When you use the supplied clipping paths to mask off your main image, base and underside (if you want it other than white), it's awesome! Just add a little type and you're good to go. Please see sample. Bottom version also available.
Used like this: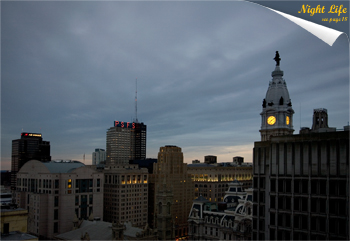 Basic instructions:
1. Open file and change canvas size to accomodate your artwork, increasing toward the lower left. (You'll want to figure out final sizes ahead of time.)
2. Drag in image; make selection out of Paper path (Paths palette), and choose Mask from the Layer palette. Since you enlarged the canvas, you'll need to delete away rest of mask so your image shows fully.
3. Make layer for base; add color if desired. Make selection out of Base Paper path, choose mask.
4. Add type layer if need be.
5. If you want to color the underside of the photo instead of leaving it white, make a layer and do the same thing as for the base, only use the Underside path.
6. Take supplied shadow background, make it a layer, and move it to the top; set mode to Multiply. If heavier shadow is desired, duplicate the layer and tweak opacity to suit.
Visual instructions
More of my paper shading effects:
Paper Effects