A High Detail vector set including a Map of Canada States, with capitals and major cities, a 3D globe centered on Canada, Canada flag, and a minimap with canada highlighted.
All elements are separated in editable layers clearly labeled as shown in the image.
All names are present in both outlined and type version (on a hidden layer)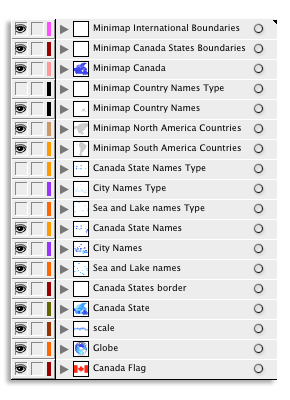 Source maps are courtesy of NASA Earth Observatory Blue Marble project, for geographical boundaries, (http://earthobservatory.nasa.gov/Features/BlueMarble/), and Canada CIA 1999 map to trace Political boundaries and cities (http://www.lib.utexas.edu/maps/americas/canada_pol_1999.pdf).
Free Font Source is: http://tulrich.com/fonts/#20070211
Both Illustrator CS3 and Photoshop CS3 have been used to design the final vector map.
The map was completed on the 14th of october 2010.
Geographical boundaries and bodies of water are from Nasa map, political boundaries, country, cities and bodies of water names are from Cia political map.
Need more maps?

If you also need one or more high quality flags, you can find them here: